Cognitive health allows us to make decisions and perform tasks through thought, experience, and the senses. Naturally, with age, our cognitive abilities will decline which impacts our ability to recall or remember, perform simple math, and the ability to reason or judge. When our cognition starts to diminish, the feeling of being overwhelmed may take over while we try to keep up with everything as if nothing has changed.
As an aging adult we may think "that won't happen to me" or "I'll notice if something changes." Unfortunately, that is rarely the case. Since cognitive decline is difficult to pinpoint in its early stages, many small things get overlooked such as missing appointments, a medication mix up, writing the wrong amount in your checkbook, or falling victim to a scam.
For those adults that wish to remain living in their homes as long as possible, this can pose a rather large problem. According to Jason Karlawish, Professor of Medicine at Perelman School of Medicine at the University of Pennsylvania, "one of the first abilities to be impaired is managing money." Interestingly enough, Fine Howe and Hutson stated in 2016, "financial literacy begins to decline after age 60; however, confidence in financial literacy remains constant over time."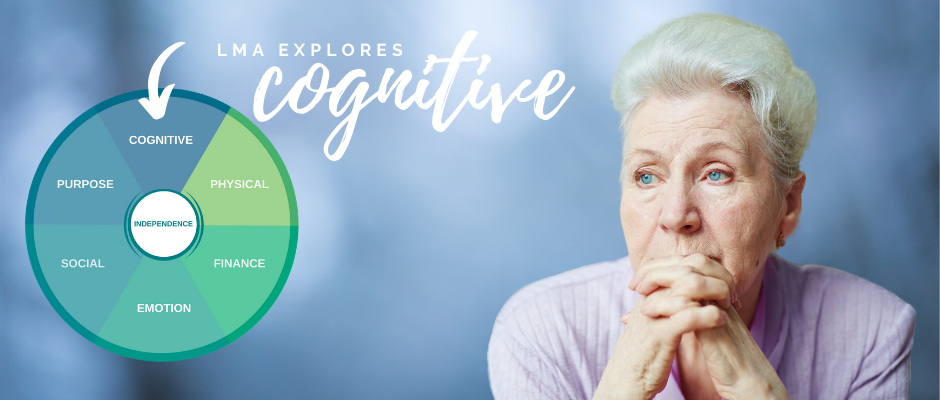 If the data shows we will all eventually experience some kind of cognitive impairment, what can we do? Since there's no cure, the best solution is to seek help. Knowing that our 'reasoning' will also be affected, we should seek this help before we really need it. Simple support systems can help you avoid financial mistakes, missed appointments, and medications, yet still remain in control of your life and decisions.
At Life Managers and Associates (LMA) we offer a range of services that support independent living as we age. Our services include managing budgets, bill pay, reviewing statements, and raising red flags for anything that doesn't align, which can be especially helpful in avoiding mistakes and scams.
LMA knows clutter can often compound confusion, which is why organization is so important. Everything has a place and everything in its place. Our organization services go beyond just organizing items but also include scheduling appointments and ensuring overall home health and safety. For example, clutter can often lead to safety hazards such as trips and falls and therefore organization plays an overall role in home safety.
Together with LMA, you can have peace of mind and remain independent longer.