Aging in Place: Consulting & Connection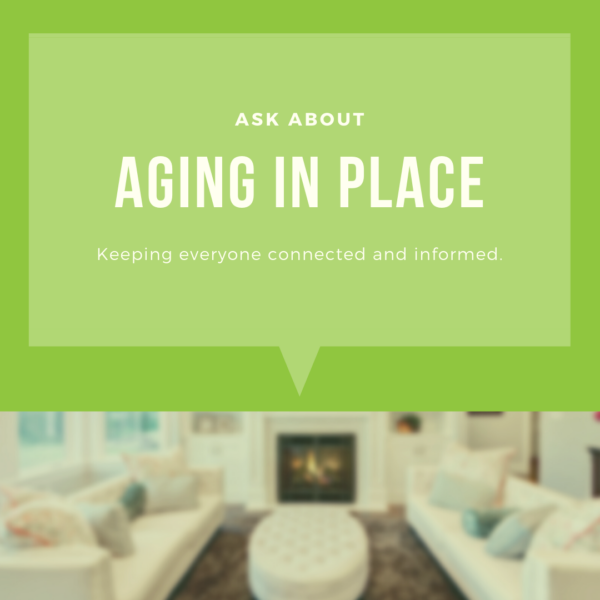 LMA Consulting Services
Everything we do at Life Managers & Associates is dedicated to helping seniors maintain their independence. Advance planning is the key. With our consulting services, our Certified Aging in Place Specialists are trained to assess, provide guidance, and then work with seniors to implement a plan that will help them retain control and remain in their homes.
I want to explore Aging In Place
The ability to live independently into our older years is something most of us dream of. But the reality of managing day-to-day tasks and care can become overwhelming if a blueprint for independence hasn't been mapped out. The time to plan and prepare for aging in place is before you find yourself in a critical situation. Our Certified Aging in Place Specialists can help you:
• Assess your home for the physical & financial feasibility of aging in place
• Advise on and oversee any needed home modifications
• Create a Plan for Future Living to help maintain your independence
Empower yourself to maintain your independence by making a plan to age in place. Schedule a consultation today!
I have clients looking to Age In Place
For many of your older clients, maintaining their independence and aging in place for as long as possible is their primary goal. Our Certified Aging in Place Specialists will continue the sometimes-difficult conversations that are started in your office with a focus on:
• How and when to relinquish responsibilities
• Who will assume responsibilities and take on decision-making roles
• What financial and/or physical factors will impact the ability to age in place
• Creating a plan to age in place / Creating a Plan for Future Living
Tackling these topics before drafting Advanced Directives (or) an Advance Directive provides valuable insight that ensures all documentation reflects your client's needs and wishes. Contact us to schedule a time to meet with your clients.
I want to help my parents Age In Place
No adult child wants to think about their parent's decline, much less have a conversation about it. But However, having a thoughtful discussion before a crisis occurs is critical to avoiding a scenario that can lead to damaged relationships, financial hardship, or even being unaware of the options available. Our Certified Aging in Place Specialists can facilitate a dialogue that will teach you to:
• Support your parents without threatening their independence
• Empower your parent's ability to age in place, both financially and physically
• Reach a mutual agreement on future planning and living arrangements
• Detect warning signs that your parent may be deteriorating or in distress
Take the steps today to prevent family strife and ensure your parent's safety in the future. Contact us and we'll discuss a gentle way to address maintaining your loved one's independence.
"LMA was engaged to help a client of mine who had fallen and was in the hospital. The client had no local family. The LMA team was able to come in, analyze what was needed and put all of the pieces together before the client came home from the hospital. LMA 's response time was instantiations. I knew the client was comfortable, well cared for and had everything he needed.
This client wish was to age in place. I had peace of mind knowing that LMA would take care of every detail to ensure that the client could stay in his home. Living so far away from the client, LMA did the heavy lifting so that I could continue to work and maintain my own family.
Kim Burns gets the job done efficiently and effectively. She is patient, kind and communicates well. Her care for our client allowed me to focus on my area of expertise, financial planning. She provided me the necessary information on medical, caregiving and monthly expenses so that I could ensure that adequate money was made available for the client.
My only regret is that I didn't engage their services sooner."

– Rick
"I don't know how we would have done it without Life Managers & Associates. As an only child and a new mom, I just couldn't do it all, and they made the process so seamless, anticipating everything and taking care of it…..they were managing the property, helping us find contractors and any other services that let him stay safely in his home as long as possible. Most importantly, they gave us both peace of mind. I truly couldn't have done it without them."

– Alison