"I am so thankful my father signed on with Life Managers before he had any specific needs. If it had not been for Bode, ready with a key to his home, I would probably have had to call the police to break in and then drop everything to rush to Philadelphia myself. Instead Bode was able to take him to the hospital to be evaluated, treated and discharged home, all while keeping me posted by phone.

As his needs gradually increased, not only was it great to have them close by and available, but also to have their experience, knowledge and local resources with which to best help an aging individual. They were incredibly kind and patient with my father and he had great trust in their care.

My father was very clear to my brother and me that he wanted to avoid disrupting our lives as much as possible. It was so comforting to know that he was in good hands. While we visited more and more frequently as his needs increased, Bode and Kim took care of all the logistical issues for us. I know having them to help him also made him feel more independent and not feel like he was a burden to his children.

I am so thankful to Bode and Kim for everything they did, always going above and beyond to accommodate both my father and me. I highly recommend them to anyone in need of such services. I can only hope there will be someone like them to help me when I am his age!"

– Don's Daughter
---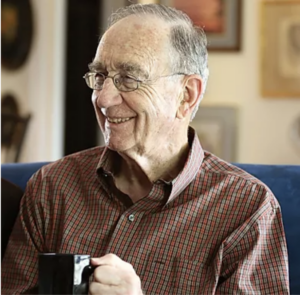 ​MEET DON
In 2014, Don was a very active 84 year old living independently in his 3 story home. He was single and his 2 children lived out of state. Don had no need for outside assistance but was concerned that there was no one local if "something happened".  He engaged Life Managers & Associates to fill this role.  In 2014 we had 3 meetings to get to know Don, his filing system and to create a personal inventory. For the next 2 years, we checked in on Don twice a year. He was thriving living independently. ​
In 2016, "something happened". Don's daughter had received a message that Don had fallen earlier in the day and she had been unable to reach him. She asked if we could stop by the house to be sure he was okay. When we arrived, it was apparent that Don should be checked out at the Emergency Department. Don had not comprehended the severity of his injuries. We were able to accompany Don to the hospital and stay with him until his daughter was able to be present.
Following this event we collectively decided to increase the frequency of our meetings with Don.  We began meeting monthly.  Tasks that we assisted included, hiring a cleaning service, setting Don up with a medical alert device and teaching Don how to use his cell phone.
After a few months Don asked us to help him research continuing care retirement communities for a possible move.  We gathered data, took him on visits and he made a down payment on a local community.  Despite knowing that this was a good move, Don was terrified of the process, so we took it slow.  We spent 3 months meeting with Don weekly to organize his belongings for the move.  We were capable of moving faster but keeping the process at a pace that was comfortable for Don was critical.  In October, we spent 2 days packing him up and 1/2 day unpacking him in his new apartment.
Our relationship has not ended. At this point we continue to meet with Don weekly. We have helped him set up his computer, learn to operate the new washer and dryer, confirmed that his bills and policies have been transferred to the new residence, organized his bills and written checks for his signature. We are a stand in family member for Don if he needs anything. We are another set of eyes and ears watching out for Don which is peace of mind for his children.
We welcome the opportunity to establish relationships with individual's years before they may need our services.  Life is uncertain, but we do know health and age can limit a person's capabilities.  Let Life Mangers & Associates assist you to more fully enjoy life!