If you're a caregiver, you know the rewards that come with the loving act. They often include feeling a sense of purpose and appreciation from the person you help, who might be a parent or a spouse. However, it is not without challenges.  It can be a 24/7 calling with many sleepless nights and stress-filled days. The emotional and physical toll of caregiving can be downright exhausting but also very isolating.  It often can strain your relationships with the person you care for and the other members of your family.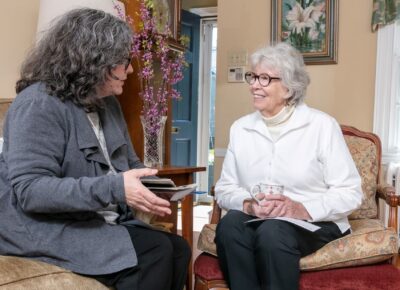 Breaking Down
"I've heard so many times from caregivers that they miss spending time doing enjoyable activities with the individuals they're caring for," explains Bode Hennegan, president and founder of Life Managers & Associates.  "They're not enjoying each other because all their energy is used up in caregiving."
To help combat this issue, don't forget to make time for relationships. Try to spend more time together not related to caregiving — break up the days with something you mutually enjoy like playing a game, doing puzzles, going for a walk or driving through the neighborhood.
Next, to combat burnout don't forget yourself. It's not easy but one of the most important things you can do for your own mental health is to pay attention to your needs. If you're easily agitated or lashing out at the care recipient or your spouse and family more regularly, that's a major sign you need a break.
Calling in Assistance
Too often caregivers feel like they have to "do it all" to the point where they overlook accepting help when it's available or even asking for help to get the break they need. That help might include taking up an offer from a friend or family member to help lighten the load. Or it can involve calling in a home health aide who can help with activities of daily living (ADLs) to take some of the physical and emotional burden off of the caregiver. Or that extra help might involve someone else (either a friend or a professional) grocery shopping, preparing meals and performing housekeeping tasks — both indoor and outdoor. Or it might include someone who can assist with organizing mail and paying bills.
Whatever the task, most of them can be outsourced in some manner to ease the stress and help bring more joy to the caregiving relationship and the family.
"It's important for caregivers not to lose sight of their relationships and how important they are for happiness," says Bode. "And to remember to take care of themselves, too, by accepting help or calling it in, so they can better enjoy these very essential connections."
Life Managers & Associates supports older individuals as a surrogate family member with the administrative and organizational responsibilities required to age in place. As a trusted member of their team, we help families feel safe and supported – alleviating stress for all.