It's normal to worry about your parents' financial future if they haven't filled you in with any specifics. You know that with aging comes declining physical and cognitive abilities. And you want to make sure they're financially protected for the long term as they move through their golden years.
But broaching the subject about their current and future finances is far from easy. It can seem like you're intruding in their private matters. Because money and families are both complicated on their own, merging the two can appear so tough — filled with awkward exchanges — that maybe you are trying to put it off as long as possible.
That's a mistake that many adult children make. In fact, the longer you delay, the harder the conversation becomes and the higher your risk of running out of time, so say the experts.
So how do you begin the delicate conversation?
First, it's important to have the talk as early as possible and be thoughtful with how you handle it. Time and place is everything: It is not a conversation that should be done during Thanksgiving dinner or with any event involving people other than immediate family, or any time when emotions are running high or where alcohol might be involved.
Also, it's not a one-time conversation, according to Bode Hennegan, founder and president of Life Managers & Associates. "The initial discussion should be thought of like planting a seed.  It's something that should grow from there and be revisited regularly," she says.
Talking Tips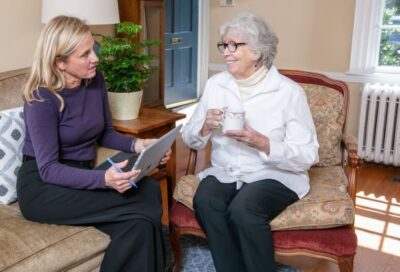 With a little bit of knowhow, you can get the discussion going so it feels less intrusive and more palatable for everyone. Here are some ideas:
Be Direct: You could say, "If there were an emergency, where would I find information on your finances? Would you be willing to share them with me?"
Ask for Advice: You could say, "Mom and Dad, how did you begin to save for retirement? Did you ever consider buying long term care insurance? What types of retirement accounts did you set up for your future?"
Tell a Story: You could tell a story that you heard recently about a neighbor getting scammed out of money as a way to begin the conversation. You could say, "I don't want this to happen to you, can we talk about how you're protecting and managing your finances for your future?"
Use a Life Event: If you might be moving someplace else, you could say, "Before I move away, I want to know that you're going to be okay financially, so can we talk?"
Discuss a Current Event: COVID-19 has created many opportunities for talking about how to handle if a loved one gets sick and how related health care might be paid for. You can use any current event as a springboard and could say, "How might your financial situation change if X happens to you?"
Once you start the conversation, and to help it go smoothly, there are three key factors for you to keep in mind:
Show Respect: Truly listen to what is important to your parents and what their opinion on a financial subject is. For example, why do they still want to write checks vs. putting all of their payments on Auto Pay? They may not be comfortable with the technology so it's important to hear them out and defer to their wishes.
Acknowledge Their Desire to Remain Independent: We're all hardwired to be independent. So, when we get toward the latter stages of life, it's incredibly hard to start to comprehend giving up our independence. It's important to remind your parents that by creating a plan now, it will enable them to be as independent as possible for as long as possible.
Help Them Retain Some Control: Everyone wants control over their lives. When you think about allowing someone to make a choice, it often goes smoother to give them items within some parameters to choose from. So, when proposing ideas to your parents, give them specific options first and let them choose what works best for them from those given options. This way, they will feel some ownership over their future.
Support with Your Plan
When you have some of the details of their wants and needs, the next step is to come up with a plan everyone agrees on. While you are coming up with a plan of who will handle what financial matters and when, you may find you (and your parents) need help. Sometimes adult children live too far away or for other reasons are unable to consistently have their eyes on their parents' financials. You may realize they need regular assistance with daily money management, like balancing their checkbook and paying their bills.
That is where we come in. Life Managers & Associates can step in as an objective third party to work closely with your parents to ensure your daily money management plan (bill paying or other administrative tasks) is carried out and inform you of the status along the way — for the short-term or throughout their life.
Life Managers & Associates supports older individuals as a surrogate family member with the administrative and organizational responsibilities required to age in place. As a trusted member of their team, we help families feel safe and supported — alleviating stress for all.