Richard* is an affluent retiree living on his own. He's in his mid-80s and appears fine physically but he's starting to slow down and make some mistakes. Richard's daughter, Meg,* knows this and keeps tabs on her dad by checking in regularly either on the phone or in person.
One day, Richard has a fall which requires a trip to the emergency room and he's subsequently admitted to the hospital. After a few days at the hospital, he needs to move to a rehabilitation facility "rehab". Meg arrives at the hospital to talk to the case manager about next steps. As the case manager starts looking for a rehab facility, she informs Richard and Meg that his options are limited. The rehab at the retirement community where Richard lives does not take his insurance and the only rehab facilities that might admit him are low-rated. And the reason is because of his insurance.
Meg is shocked and doesn't understand. Her dad has great, top-of-the-line insurance. What happened?
Unfortunately, a few months prior, Richard decided to switch his insurance to a less expensive option without telling Meg. Now, he has no choice but to be in a facility that is less than ideal — a far cry from where he could have been placed with his prior insurance. Meg had no idea because she hadn't asked about the details.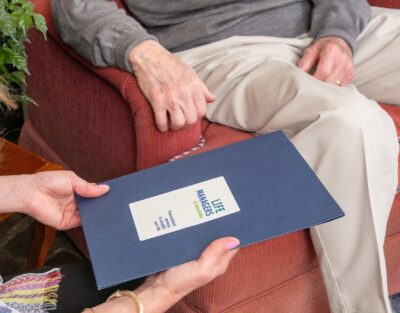 This is a true story. And one that is quite common. By Richard focusing on saving money on his insurance, he neglected to ask probing questions to his insurance agent like how it would impact his quality of care or if it would be accepted at the retirement community rehab where he lived. And Meg, who considers herself very involved with her dad, assumed her dad was doing okay… until it was too late.
"Too often, it takes a costly mistake like this for adult children to get even more tuned in and involved, unfortunately," says Bode Hennegan, founder and president of Life Managers & Associates. "It's a challenge — and such a balancing act between letting our parents have their independence and when to know when to be more involved."
Now it's a major crisis. Meg will have to spend a lot of time (including missing work) and effort trying to figure out how to get Richard more comprehensive health insurance so he can be transferred to a better-rated facility.
"This type of mistake can be costly to the health of a loved one," Bode adds.
Prevention Is Key
No one wants to hear that a personal or financial crisis could have been prevented. Meg likely could not have prevented his fall but she may have prevented him from being admitted to a low-rated rehab facility had she asked more questions.
It can be tough for daughters and sons to initiate these conversations with their parents, especially when parents actively avoid the topic. A great starting point is to ask the parent to create a personal inventory. This is a document that includes all the information on finances, insurance policies and legal documents. It may also be helpful to understand the monthly bill schedule and what home maintenance is required for each season.
If parents don't want to share specifics, adult children can ask where the finances and legal documents are held and what type of insurance policies they have, to get the conversation started. Great times to check in with parents include during insurance open enrollment, both income and property tax deadline times, and at the change of seasons.
"Adult children should be vigilant. If you suspect that your parent is slipping—either get more involved or find a trusted person to help," says Bode.
What if Richard didn't have any family nearby who was available to help?— Life Managers & Associates provides someone who's attentive to details and could identify problems like this from happening in the first place. Our daily money management can easily spot problems as part of our Bill Pay service. When bills are regularly organized and paid, our Client Managers become accustomed to the bills and would notice any changes in companies (like insurance changes) or amounts due. Then they alert the client to address any potential issues. Disaster averted!
Life Managers & Associates supports older individuals as a surrogate family member with the administrative and organizational responsibilities required to age in place. As a trusted member of their team, we help families feel safe and supported — alleviating stress for all.
* Names have been changed.