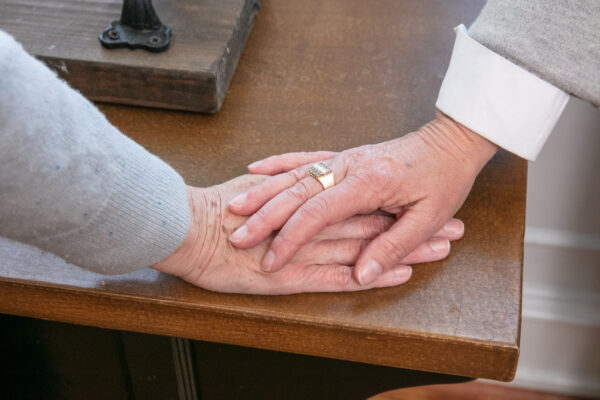 Katherine was a recent widow. After her husband passed away, his private caregiver, Amanda, convinced Katherine that she could continue to help her with whatever she would need. Katherine could function independently and didn't really need assistance. But she wanted Amanda's companionship. So Katherine continued to employ Amanda and allow her access to her credit card — feeling she could trust her since she took such good care of her husband.
 Amanda would often ask for favors from Katherine who felt indebted to her. And slowly, new, unfamiliar charges accrued on the credit card. Amanda also wouldn't consistently work as many hours as she did when Katherine's husband was alive, but she was being paid the same. She would often come late and leave early.
 It wasn't that Katherine didn't notice but she had become so reliant on Amanda that she started to feel as if she couldn't survive without her regular presence as time passed, and was afraid to confront her. Amanda took more and more liberty with Katherine's credit card. And soon, Katherine was the victim of elder financial abuse.
This story is not uncommon, sadly. In fact, the federal Consumer Financial Protection Bureau's 2019 review of suspicious activity reports filed by financial institutions revealed that one in nine incidents of elder financial exploitation were committed by non-family caregivers. The average loss in such cases was $57,800.
Signs of Financial Abuse
According to the National Center on Elderly Abuse, the following are indicators of elderly financial abuse:
Sudden changes in bank account or banking practices, including an unexplained withdrawal of large sums of money or the addition of signatories to an older person's bank signature card
Abrupt changes to a will or other financial documents
The unexplained disappearance of funds or valuable possessions, or sudden transfer of assets
Substandard care provision, unpaid bills or eviction proceedings
Evidence of poor financial decision making
The provision of unnecessary services
Depression or anxiety in the individual
Malnutrition in the individual
Protective Oversight
Unfortunately, when families or close friends don't live nearby to have an eye on financial matters, it makes individuals that much more susceptible to the abuse. But Life Managers & Associates (LMA) is skilled in spotting abuse and dealing with it.
For example, when situations like Katherine's have occurred, financial advisors (with suspicions) have brought in LMA to reconcile the books and the problem was discovered. Other times, LMA was already involved in managing the books and staff have been able to identify problems. Overall, it takes trusted people to keep a lookout and have an honest, open discussion with the client.
"The victims do not realize how bad the abuse or damage is. When it is brought to their attention, they are often so embarrassed," says Bode Hennegan, founder and president of Life Managers & Associates. "Our client managers understand the delicate nature of these discussions and are able to present facts to the client, their families and advisors to help promptly mediate a resolution to the situation."
For more information about how Life Managers & Associates can help protect your clients from financial abuse and exploitation, contact them at 484-433-0055.
Life Managers & Associates supports older individuals as a surrogate family member with the administrative and organizational responsibilities required to age in place. As a trusted member of their team, we help families feel safe and supported — alleviating stress for all.